Today, we are so excited to be "Mixin' It Up" at the More than Mommies Mixer!  What a fun way to find and meet some new bloggers out there!  Please link up and find some great new reads out there.  And for all the new readers that have found our blog, read below for some more information about our blog and we are so glad to have you here!
A little about "The Chirping Moms" for our new readers:  
We are Courtney and Julie, two moms who met at our neighborhood park.  Courtney had just moved here from North Carolina, right near where Julie's mom resides, so we instantly connected.  Both of us had two little ones at home and live right down the block from each other.  We quickly became friends, joined a playgroup together, and spent some wild adventures out and about with our little ones.  Between us we have four little kids, three and under, with another "chick" on the way.  We spend our days chasing around our wild ones!  With our little moments of free time, we like to cook, attempt some new crafts, and sneak in some exercise.  Last spring, the idea of "The Chirping Moms" originated and quickly took off!  On on our blog, we hope to share a little bit of our adventures in "mommy world".  We both are loving the connections that we are making in the blog world and the creative outlet that it brings to our "mama" lives!


And some of the great things that you can find on the blog right now…
Make sure to click on our Giveaways/Reviews tab for our latest giveaways that are running now!
We just hosted a fun and festive Easter week, with a great wrap=up posted here full of coupon codes and deals!
And make sure to check back on Monday for our latest Monday Funday giveaway!
NOW for the link up…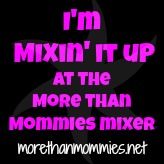 Here are the "rules"
(Don't make us post bouncers at the door.)
Follow your Hostesses – Christine and Janene from More Than Mommies
Follow our Co-Hostess – Stephanie at WhenCrazyMeetsExhaustion
Follow the Life of The Party – Ellen at Bad Word Mama! We will choose our Next LOTP from those who link up their twitter handle. Use our hashtag #MTMmixer when tweeting so we can keep up with you there!
 Follow our Mixologists – This week our Mixologists are Courtney and Julie at The Chirping Moms. Every week we will choose one participant to get our party started at the #4 slot. All you have to do is link up under the first Linky (and follow the "rules") to be considered!
Follow the person directly BEFORE you on the hop!
 Finally, we ask that you post one (or both!) of the following buttons in either a post or on your sidebar to let other people know where you are partying today!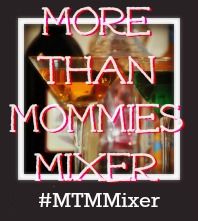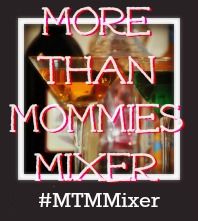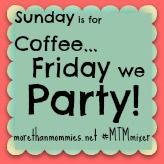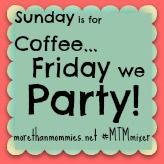 Link up your Blog Here:Link up your Facebook Page Here:
Link up your Twitter Handle Here:
Link up your Pinterest Boards Here:
Link up your Instagram Feeds Here:
(Visited 1 times, 1 visits today)