By: Lyla Gleason
Looking for fun family activities this summer? I'm always amazed by all the things to do in Coney Island. From beaches and museums to all-day amusement park rides and family-friendly eats, Coney Island is a great day trip for the whole family. Here are some of my favorite Coney Island picks…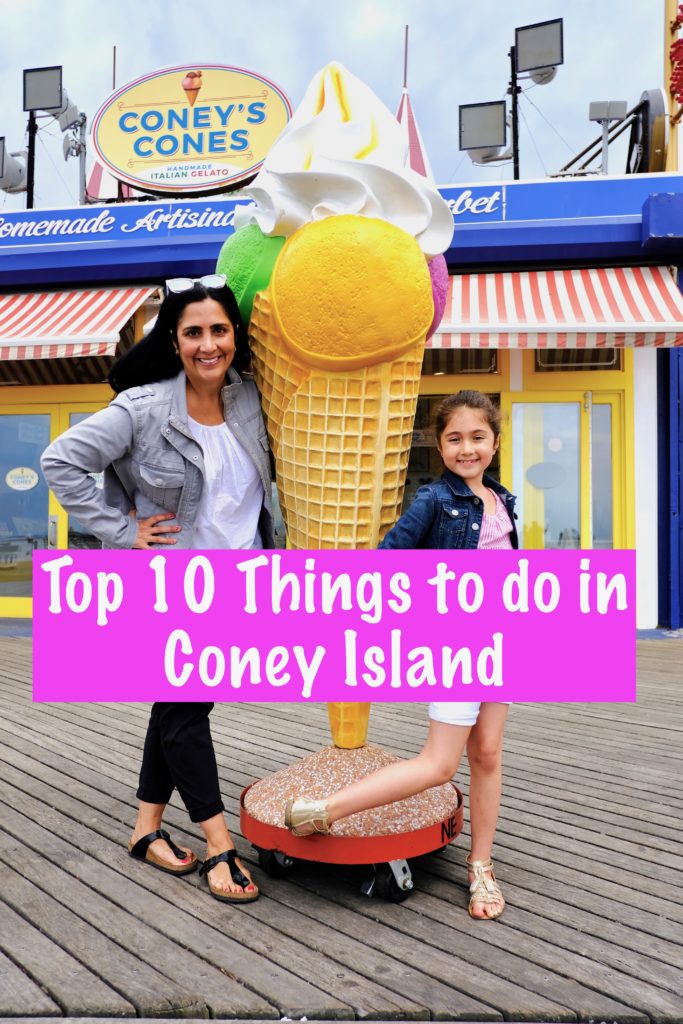 Top 10 Things to do at Coney Island
1) Ride the family friendly rides at Luna Park, NYC's largest amusement park.
New this year, Luna Park's all-day wristband includes unlimited rides (one ride per visit for the Coney Island Raceway and Slingshot) on all 30 Luna Park attractions including the Cyclone. Now that my daughter is over 48" inches, she loved going on The Tickler and Steeplechase rides.
2) Bring your swimsuits and hit the waves at Coney Island's beach.
Coney Island boasts nearly three miles of family friendly beach so bring a cooler and chairs and stay for the day or just take a quick dip and get back on the rides. Don't forget the sunscreen and other family friendly beach essentials.
3) Stop for a photo-op and snack at Coney Island Walls, the outdoor museum of street art.
4) Celebrate the Cyclone's 90th anniversary by riding this iconic roller coaster (must be 54 inches). I guarantee you'll love it.
5) Have a hot dog at world's famous Nathan's Famous.
If you're up for it, join in on the world famous July 4th Hot Dog Eating Contest.
6) Take a spin on the historic B&B Carousell which has been gorgeously restored.
7) See the Brooklyn Cyclones baseball team in action at MCU Park.
Their Sunday Funday games include kiddie perks and giveaways with themes including Paw Patrol, Marvel Super Hero Nights and more.
8) Join in on the famous Mermaid Parade taking place on June 17.
This 97-year old Coney Island landmark offers the best beach and boardwalk views with a choice of swinging or stationary cars. You'll also find dozens of family friendly rides here including some newly restored vintage rides.
10) Walk along the boardwalk and discover old school arcades, circus shows, and the nearby New York Aquarium.
Have you been to Coney Island? Tell me your favorite thing to do there in the comments below.

Special thanks to the Alliance for Coney Island for inviting us to participate in Coney Island Family Blogger Day. If you don't want to miss a post, subscribe to Globetrotting Mommy for daily updates!
(Visited 261 times, 1 visits today)