By: Kristy Moreno, Seven Graces Blog
We get so many questions about what are great toys for learning. This past year, Charlotte loved her first year of Mother's Day Out, essentially a mini-version of pre-school. She learned so much throughout the year, and I want to continue to reinforce what she learned during the summer. When I talked with one of my best girlfriends who has a daughter in kindergarten and a daughter Charlotte's age (3) about some toys she uses for preschool reinforcement, we came up with a list of some our favorite and best preschool toys for learning. I ordered a ton of these from Amazon, and Charlotte is already loving using them. Here are some favorite preschool toys for learning: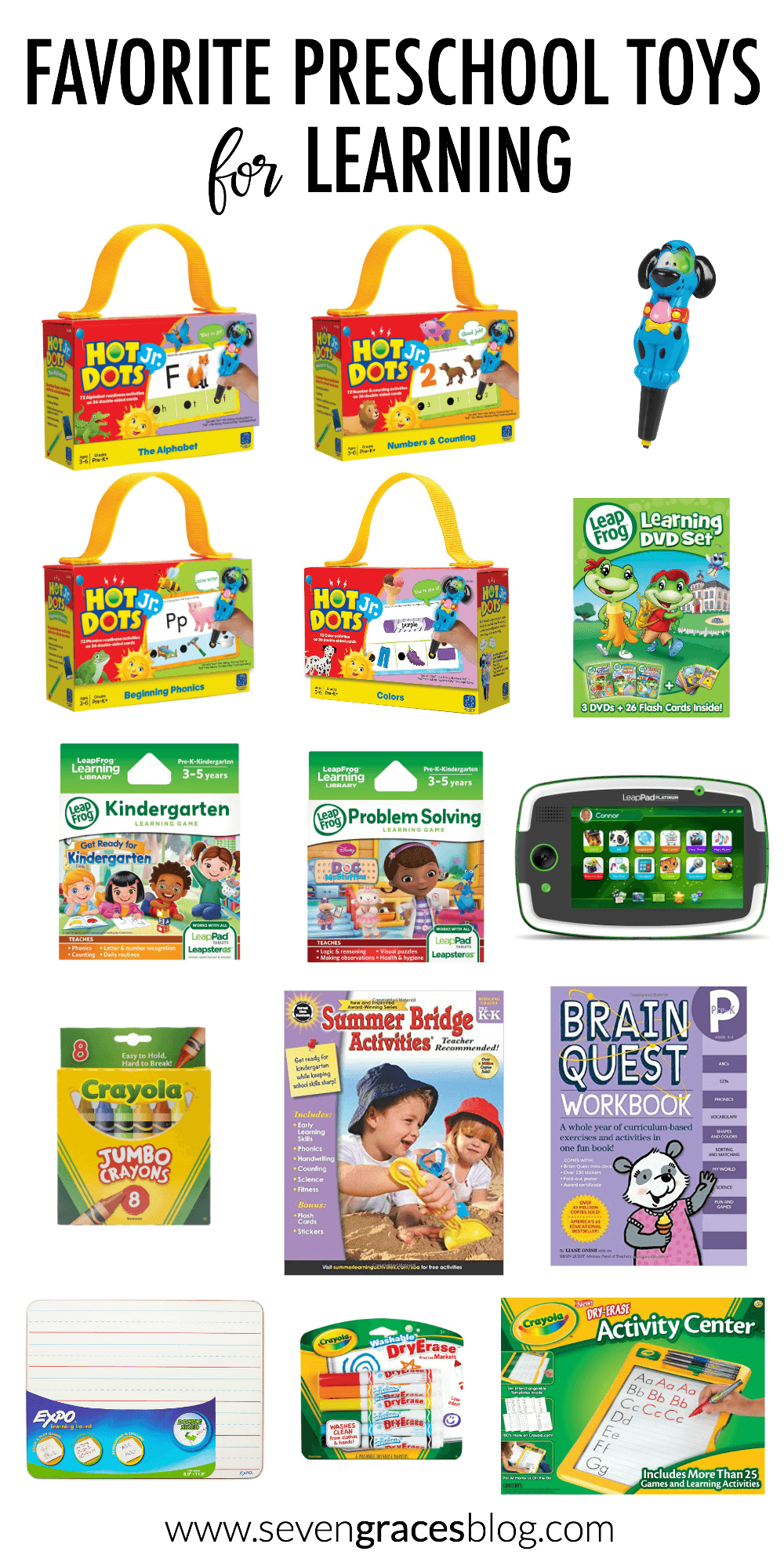 (affiliate links used below)
Hot Dots Jr.
The Alphabet Card Set, Numbers & Counting, Beginning Phonics, Colors, and Shapes
We have been loving these learning cards! They are perfect for independent learning or for guided learning for the little ones just starting to recognize these concepts. I've been helping Charlotte get the hang of using the cards by telling her what each one says or what letter or number is represented on the card sets we have right now. I think the more she is familiar with the process and the cards, she'll be able to work on these by herself. I am loving that we can do these together right now. We work with these cards for about 15 minutes at a time, twice a day, every day. I also love the storage boxes the cards come in. They are very sturdy, and Charlotte even likes to tote them around like a little purse.
If your little preschooler likes Pete the Cat, there is even a Pete the Cate set with over 200 learning activities geared toward kindergarten skills. You can find the rest of the learning card sets on Amazon.
This is the pen you'll need to use with your Hot Dots Jr. card sets. They also have various other pens (like this purple kitty). The talking dog pen ruffs and gives encouraging responses when a correct response is given (your little preschooler will simply follow the directions on the card and respond to each by pressing the correct black dot with the tip of the Talking, Teaching Dog Pen). You'll need two AAA batteries for this pen.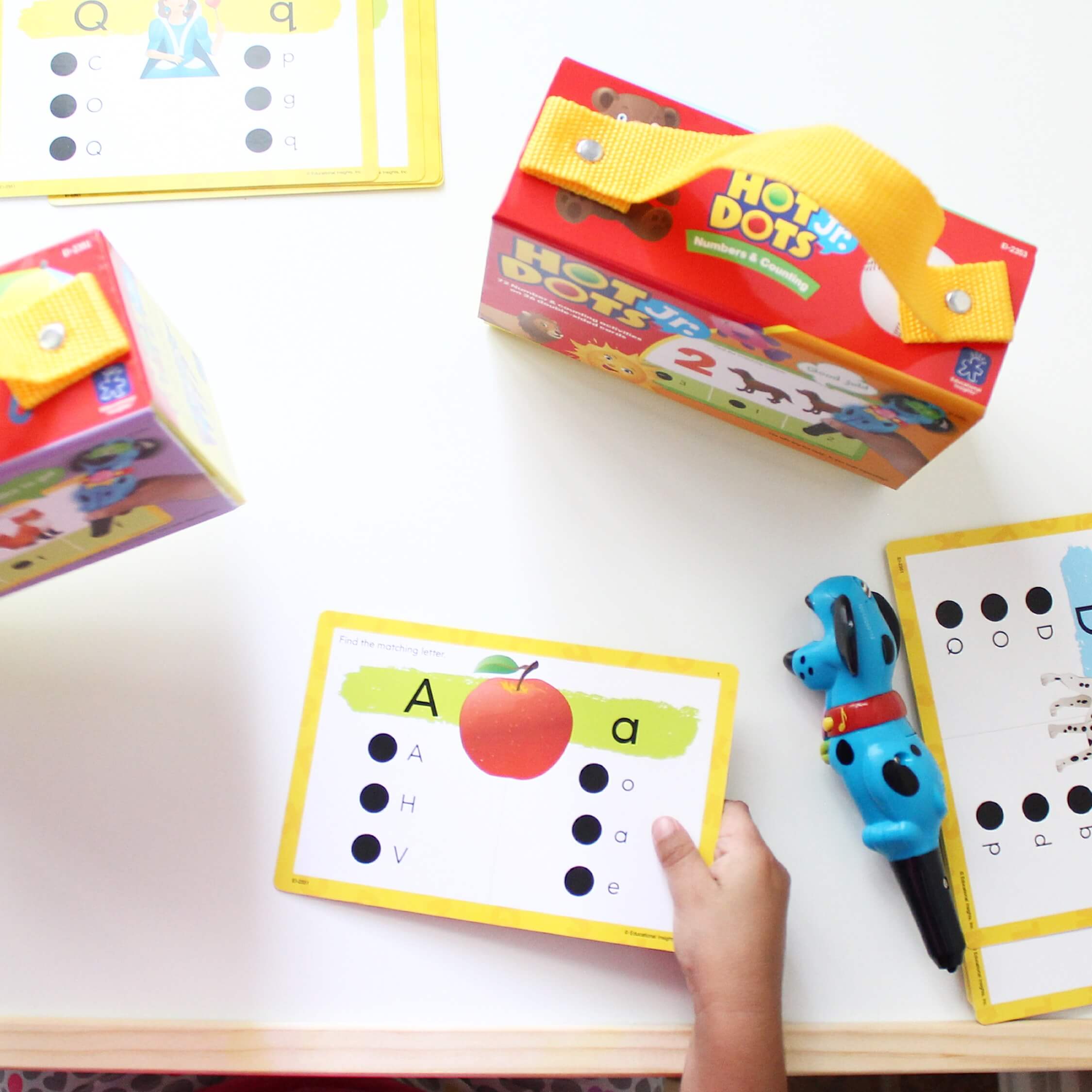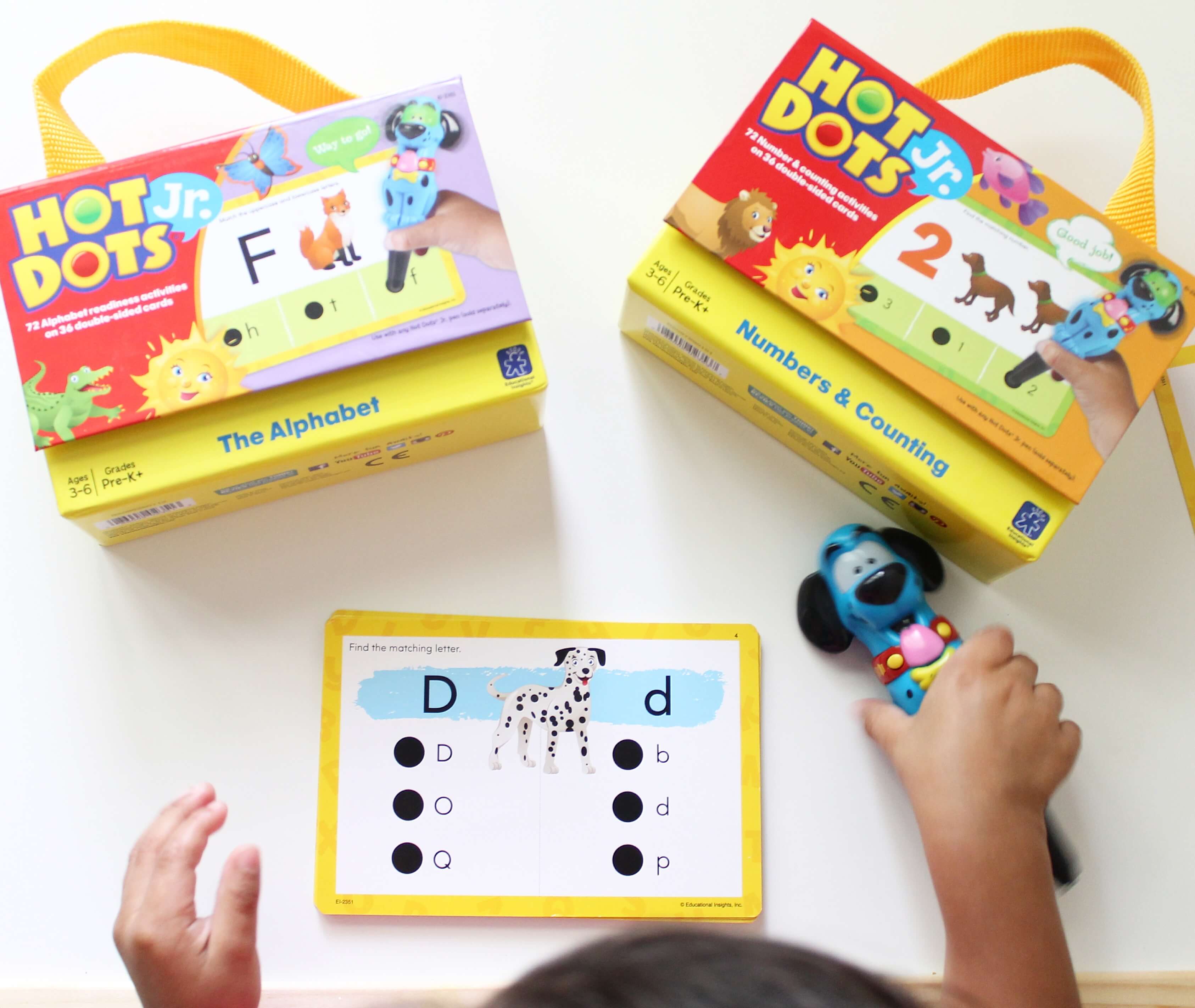 This DVD set includes three DVDs and one set of alphabet flash cards. The DVDs included are Let's Go to School, Letter Factory, and Talking Words Factory. In the DVDs, your preschooler will be learning lessons about phonics, letters, counting, days of the week, and animals, all while listening to rhyming songs.
This little tablet is great for learning! We've had this since Christmas, and Charlotte is really starting to get the hang of it and loving the games that can be used with it. I love it because it's so durable and can stand to be dropped on the ground without breaking. It also has a long battery life, making it pretty hassle-free.
LeapFrog LeapPad Games
Kindergarten Learning Game: Getting Ready for Kindergarten, Doc McStuffins: Problem Solving Learning Game // I've found the best deals for LeapPad games on Amazon. I love this kindergarten game because it gives an interactive classroom experience that provides a day in the life of a kindergartener. I'm also eyeing this Doc McStuffins game next. It teaches problem solving skills by doing check-ups and treating animals, while also learning health lessons along the way.
Activity books are great for learning when you don't want to rely on any sort of electronic or device that needs batteries. This book has 15-minute exercises to review colors, shapes, and letters, and to learn new skills like addition, subtraction, and vowel sounds.
Another fun workbook we're using this summer is this one by Brain Quest. This workbook has activities and games focused on ABCs, 123s, tracing letters, mazes, shapes, colors, beginning sounds, sorting and matching, and also has "what's wrong with this picture" games.
You'll need some writing utensils to use in the workbooks, so our choice is the jumbo crayon. You could use pencils, colored pens or pencils, or markers, but you can never go wrong with crayons since they can be used for coloring, too.
 If your preschooler is ready to start practicing writing or drawing lines or shapes, this dry erase board is perfect! The lined board makes handwriting fun when using these Crayola 6 count Dry Erase Washable Markers and makes for an easy clean up.
This one is great for on-the-go or at home! If you want a step above the typical dry erase learning board, this activity center has more than 25 interchangeable games and learning activities already made for you. And it always stays clean with a couple of swipes from a napkin!
All toys and activities mentioned above are geared toward the preschooler, ages 3-5.
Along with these fun games, we'll also be spending a lot of time outside, reading books, pretend playing in our mini-kitchen and playroom, working with building blocks, playing with play dough, cooking easy recipes, cutting coupons, sorting clothes, singing rhyming songs, working on our manners, and creating arts and crafts. I think that will keep us plenty busy until school starts again in September.
What fun activities will you and your preschooler be up to?
---
Let's stay connected! Be sure to follow along here:
Instagram // Facebook // Twitter // Bloglovin // Pinterest // Snapchat: kristy7graces
(Visited 188 times, 1 visits today)