It's almost peach picking season in NJ and peach cobbler is one of my favorite desserts. I am always looking for an easy peach cobbler recipe. My friend Kristy from Seven Graces blog has the best, easiest recipe I've found. I'm so excited she's sharing here today. This is a must try recipe for the summer. If you don't already follow along with Kristy's blog and social, be sure to visit. She's a sweet, funny and fashionable mama.
Seven Graces Blog // Instagram // Pinterest // Facebook // Twitter 
Easy Peach Cobbler
I made this the other day, and it was DELICIOUS. The last time I made it was years ago, but I'm so glad I dug up the recipe. My waist-line can thank me later. Ha! It's the perfect summer dessert. Did I mention how easy it is to make? This requires canned peaches, but if you wanted to use fresh peaches, you would just slice up your own and make a simple syrup with it. I didn't go that route. You know I'm all about the simple recipes.
EASY PEACH COBBLER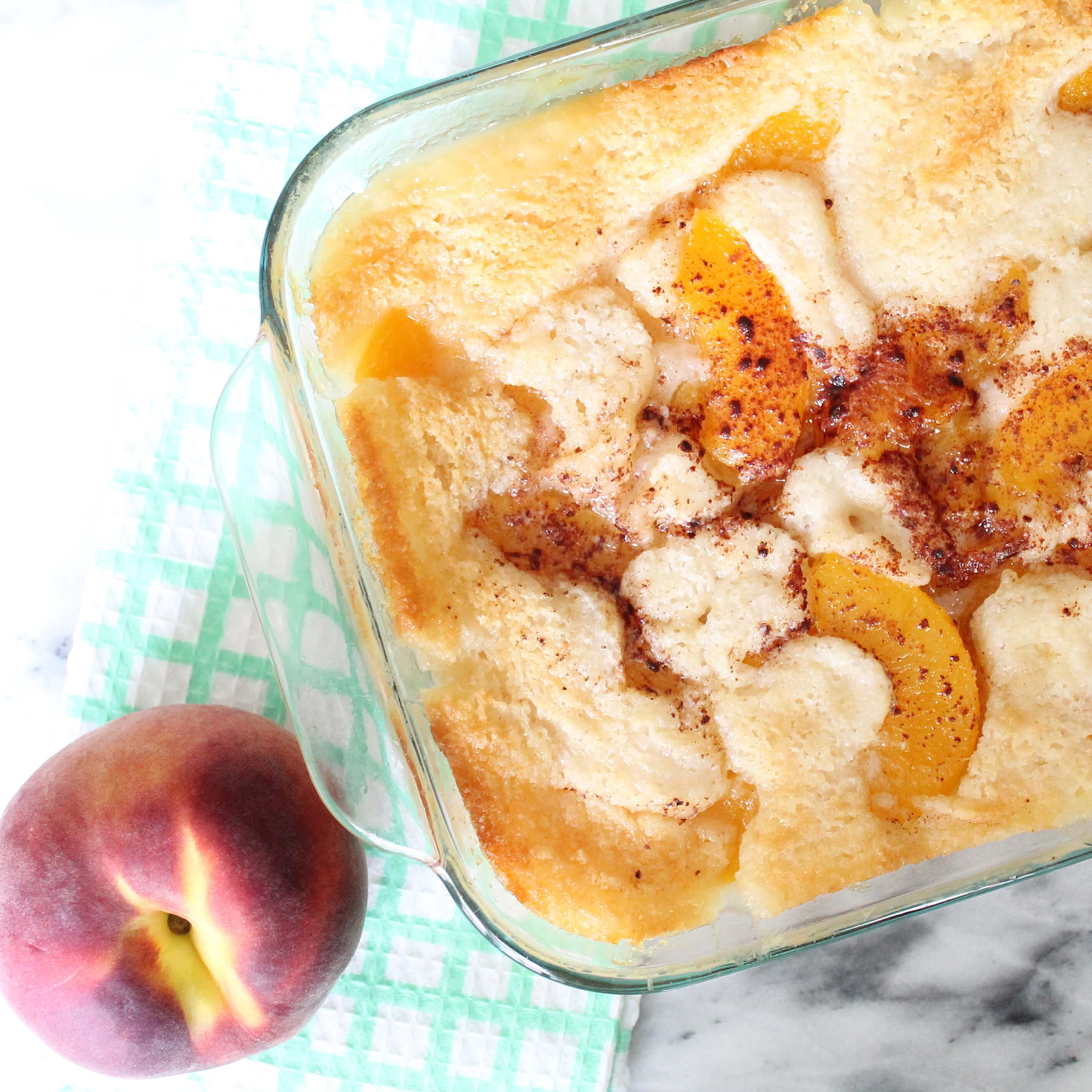 INGREDIENTS
1/4 cup butter
1 cup sugar
3/4 cup self-rising flour
3/4 cup milk
1 (24 oz.) can peach slices in light syrup (divide peach slices and syrup)
cinnamon for sprinkling
DIRECTIONS
Preheat oven to 350 degrees.
Place the butter in a 2-quart baking dish and melt in oven while pre-heating.
Mix sugar and flour together. Slowly add in the milk making sure the batter doesn't get lumpy.
Remove baking dish from oven. The butter should be completely melted.
Pour batter directly over butter in baking dish. Do not stir.
Spoon fruit on top of batter placing carefully. Be sure to NOT MIX. Just place each peach down filling up the dish and do not stir.
Pour the syrup over the peaches and batter making sure to not mix.
Sprinkle with cinnamon.
Bake 45 minutes or until golden brown.
The batter will rise above the fruit which is why you don't want to stir or mix when pouring the ingredients into the baking dish. Serve warm and top with a scoop of vanilla ice cream.
Adapted from a Paula Deen recipe found on food.com. Hope you enjoy it as much as we do!
For another easy summer dessert, visit this post: Ultimate Magic S'Mores Bars
(Visited 442 times, 1 visits today)